The 10th HERA Conference (Taiwan)
Call for Paper for the 10th HERA Conference
From Competition to Collaboration in Higher Education
Dates: June 5 and June 6, 2024
Venue: National Chengchi University, Taiwan
We are delighted to extend an invitation to scholars, researchers, and educators in the field of higher education from around the world to participate in the HERA Conference 2024 hosted by National Chengchi University, Taipei. This upcoming international event promises to be a significant gathering of minds in the region, focusing on the realm of higher education. We are excited to welcome you to join us in fostering intellectual exchange and collaboration.
In a rapidly evolving higher education landscape, marked by the dominance of market-driven approaches, the HERA Conference 2024 will delve into the theme of "From Competition to Collaboration in Higher Education." As we navigate these changing times, it becomes increasingly essential for scholars and educators in the higher education sector to unite their efforts, moving beyond the competitive paradigm and embracing a more humanistic and collaborative approach. We invite you to contribute your insights and research to this critical dialogue.
✅ Sub-Themes for Abstract Submissions
Redefining Pedagogical Models:
Exploring innovative collaborative approaches to teaching and learning that prioritize cooperation over competition in higher education.
Interdisciplinary Collaboration:
Investigating the benefits and challenges of interdisciplinary collaboration within higher education institutions and programs.
Global Partnerships in Higher Education:
Analyzing the impact of international collaborations on higher education quality, research, and student experiences.
Technology-Enabled Collaboration:
Examining the role of technology in creating collaborative online learning environments and facilitating research partnerships.
Equity and Inclusion in Higher Education:
Highlighting collaborative strategies to promote diversity, equity, and inclusion on campuses and in curriculum development.
Collaborative Research for Policy Influence:
Showcasing collaborative research initiatives that influence higher education policies, fostering positive transformations at institutional and systemic levels.
✅ Call for Paper Guidelines
We welcome original research, theoretical contributions, and practical insights related to the conference theme and its subtopics within the realm of higher education. Abstracts of no more than 300 words should be submitted by March 1, 2024 (Taipei time, GMT +8 hours), through the conference website's submission portal (TBA). Abstracts should clearly outline the research question, methodology, findings, and relevance to the conference theme.
Accepted papers will have the opportunity to be presented during thematic sessions, panel discussions, and workshops. Additionally, selected papers will be considered for publication in the collaborative journal which will be announced later.
✅ Important Dates
Abstract Submission Limit: 300 words
Submission Deadline: March 1, 2024
Notification of Acceptance: April 15, 2024
Early Bird Registration Deadline: May 1, 2024
---
CALL FOR PAPERS:
Critical University Studies Conference 2024

---
Upcoming seminar
The Annus Horibilis: A Multilevel Study of Null Scientific Productivity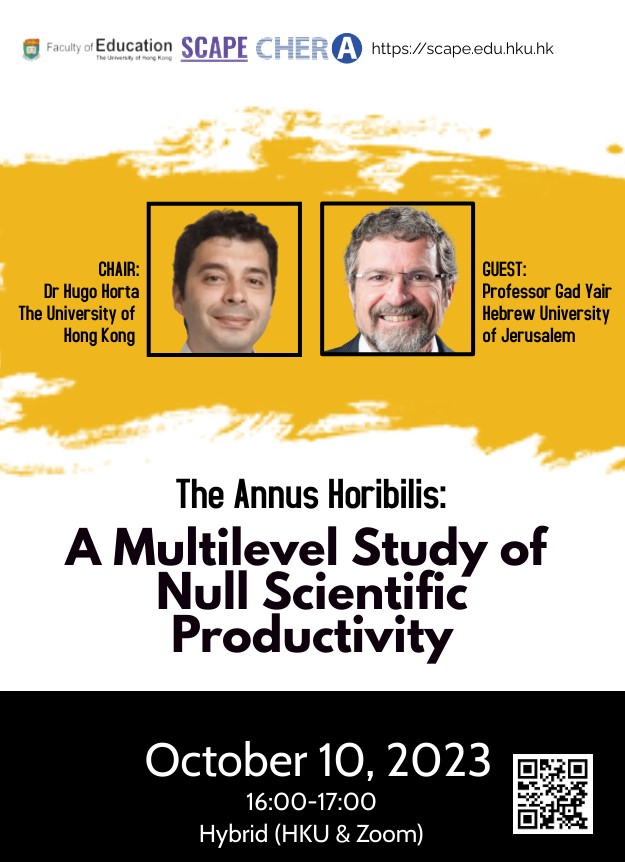 Date: October 10, 2023 (Tuesday)
Time:  4:00 pm – 6:00 pm
Venue: Room 204, 2/F, Runme Shaw Building, HKU (HKU map) and Zoom
Chair: Dr Hugo Horta, Associate Professor, HKU
Speaker: Professor Gad Yair, Hebrew University of Jerusalem
Registration: https://hku.au1.qualtrics.com/jfe/form/SV_5iGP5wJTyveMnuC 
Abstract:
This study seeks to correct a glaring bias in the sociology of scientific productivity by focusing on years of lost talent in career distributions, or the Annus Horibilis, namely, years of null or minimal productivity. Using a complete dataset of 398 American Ph.D. granting universities with more than 200,000 scientists in 170 department types, and spanning yearly data over 18 years (2004-2021), the study will analyze distributions of yearly productivity at four different levels: Individual, departmental, institutional, and discipline-level. Preliminary analyses suggest that null publications per year appear in 37% of the sum of 1,379,385 of faculty career years; one publication per year appears in an additional 17% of all career years, together constituting more than 50% of lost talent of all career years. The proposed study would advance beyond extant studies in three ways: First, rather than using small samples of elite scientists, this study will use a complete dataset of American faculty in American PhD granting universities. Second, rather than using simple statistical models to test distributions, the availability of big data will allow to implement multilevel and machine learning predictive models. Third, this rich dataset will allow the testing of alternative theoretical explanations of lost or unexploited talent, and open up new vistas for explaining stratification in science. This study will thereby provide groundbreaking understandings of the hidden iceberg of non-productive career years at four levels: individual, departmental, institutional and disciplinary. It would advance innovative theoretical concepts for appreciating where and how faculty talent remains little used, generating the hidden iceberg of the Annus Horibilis.
Bio:
Gad Yair, Ph.D. 1994, Hebrew University of Jerusalem, is professor in the Department of Sociology and Anthropology at the Hebrew University of Jerusalem. He holds the Louis and Ann Wolens Chair in Educational Research. His academic interests are social theory, culture, science and education.  During the last decade Prof. Yair has made outstanding contributions to the study of Israeli culture and the sociology of science. He has published more than 100 academic publications.
His books include The Code of Israeliness (2011, Hebrew), Love is not Praktish: The Israeli Look at Germany (2015, Hebrew), Massa Israeli (The Israeli Journey): Towards an Israeli Pedagogy (2017), The Unruly Mind: An Invitation to Israeli Science (2020).
South China Morning Post – Opinion
Published: 3:30am, 28 Jul, 2023
No place for ethnic profiling of academics, whether in Hong Kong or US universities
Gerard A. Postiglione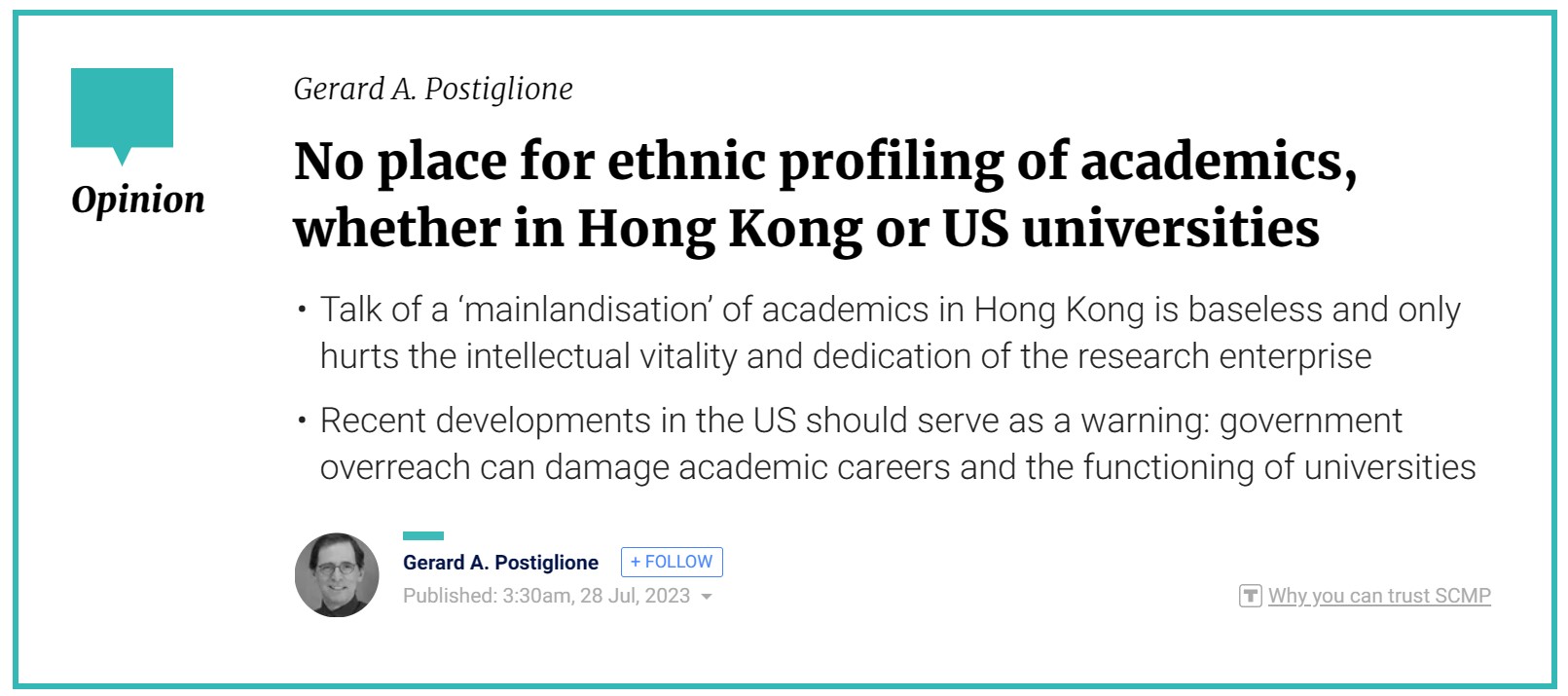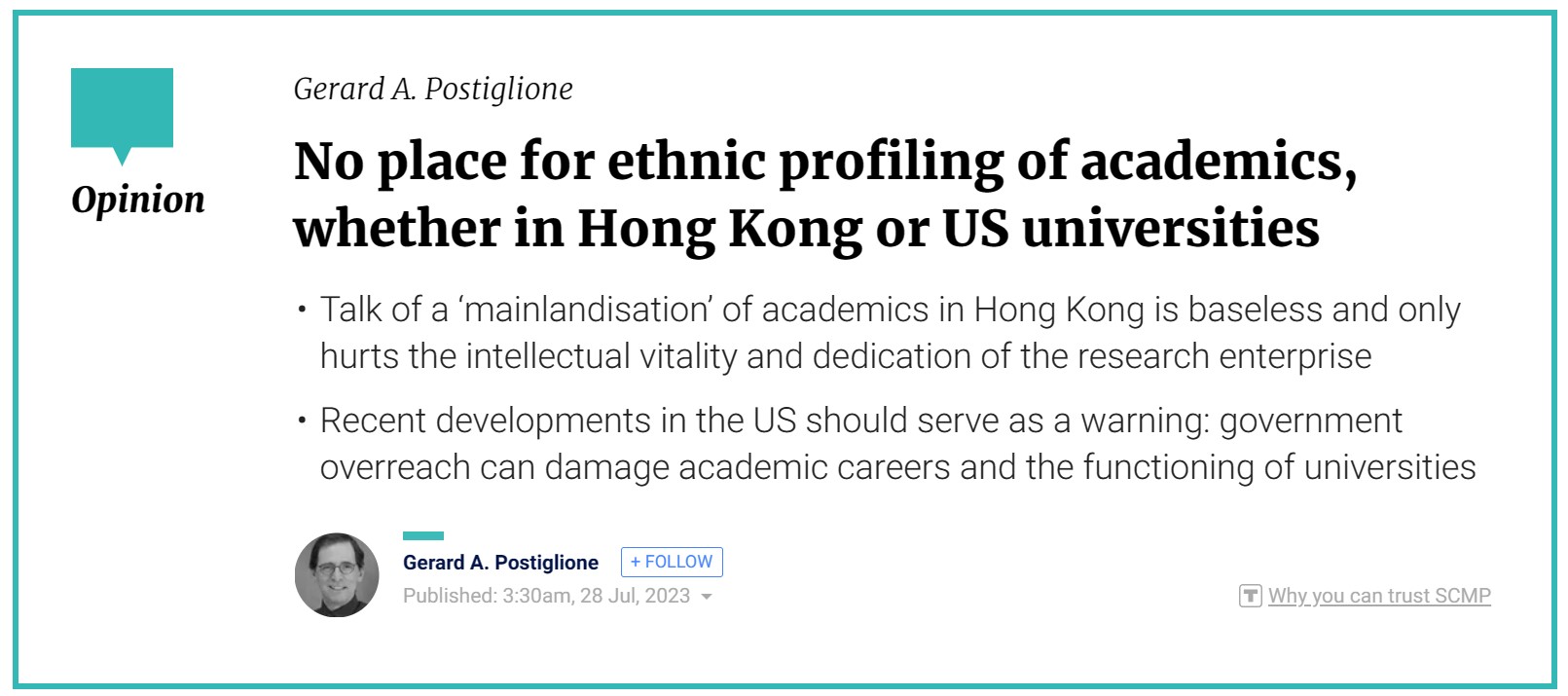 ---
Jamil Salmi (ed.) (2023). Transforming Lives at the Institutional Level: Equity Promotion Initiatives Across the World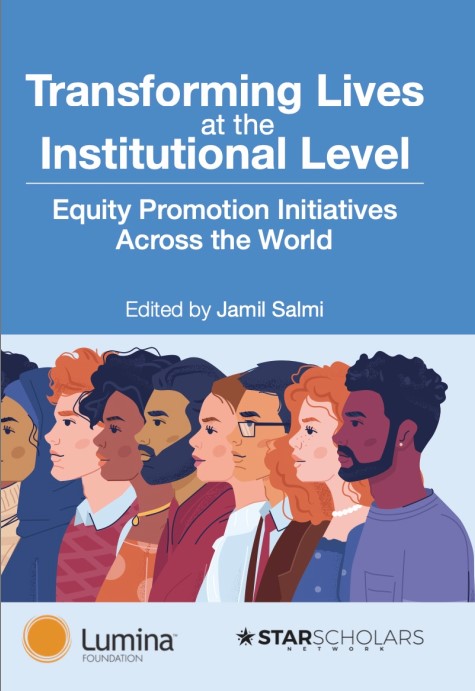 In the ever-evolving landscape of global education, the quest for equitable access to quality higher education remains a pressing challenge. Across the world, countless children and young individuals confront daunting circumstances that impede their educational opportunities due to factors such as race, gender, socioeconomic background, and geographical origin. This particularly affects those in developing countries and marginalized groups globally. To address this issue, promoting inclusivity and pluralism within higher education institutions has become an imperative driven by the principles of social justice and the United Nations' Sustainable Development Goals.
Throughout Transforming Lives at the Institutional Level: Equity Promotion Initiatives Across the World, readers will gain profound insights into various equity-focused initiatives. From integrating low-income students into university cultures and implementing student aid programs to promoting balanced regional selection and supporting students with disabilities, the case studies offer a wealth of knowledge and good practices. They delve into affirmative action, indigenous inclusion, coaching programs, and many more initiatives aimed at improving access for underrepresented groups. This volume underscores the importance of comprehensive equity promotion policies that encompass financial and nonmonetary aspects. It emphasizes the need for coordination between national and institutional actions, with an equal focus on both access and completion. Long-term perspectives and well-established information systems are essential in effectively addressing equity gaps and measuring progress.
Editor
Jamil Salmi, Global Tertiary Education Expert, Emeritus Professor of Higher Education Policy at Diego Portales University, Chile
---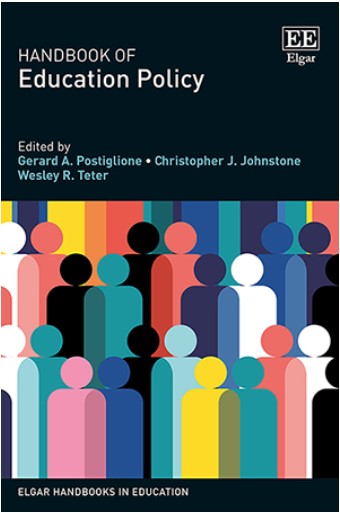 Edited by Gerard A. Postiglione (Professor Emeritus, Honorary Professor, The University of Hong Kong), Christopher J. Johnstone (Associate Professor, University of Minnesota, US) and Wesley R. Teter (Research Fellow, Center for Advanced School Education and Evidence Based Research, University of Tokyo, Japan)
Publisher: Edward Elgar Publishing
'The new Handbook of Education Policy edited by Postiglione, Johnstone and Teter is a welcome addition to the academic literature on the transformation of education policy in the aftermath of the COVID-19 pandemic. The 22 chapters of this well-researched book give a comprehensive analysis of how education policy must adapt to a radically changed world. Through a skilful combination of thematic pieces and case studies from a large range of countries, the chapter authors challenge us to embrace new education policy concepts, such as public value governance and knowledge democratization, that can foster innovation and accountability in times of uncertainty. Gerard Postiglione, Christopher Johnstone, and Wesley Teter should be congratulated for this excellent scholarly contribution that has the potential of influencing policy makers all over the world to design and implement more sustainable and innovative education policies.'
– Jamil Salmi, Diego Portales University, Chile
'This Handbook combines an up-to-date overview with theoretically-informed analysis of global education policies. It is erudite, insightful and original. It will be a vital resource for education policy researchers and an excellent starting point for students, in any location.'
– Stephen Ball, University College London, UK
This insightful Handbook is an essential guide to educational policy around the world. As shifting geopolitics, intensified climate change, and widening economic inequalities persist, the need for informed educational policy is critical.
Bringing together a unique collection of international case studies by scholars and practitioners from over twenty countries, the Handbook highlights how the contextual nature of educational policy and its implementation acknowledges both global trends and local nuance. Chapters explore key contemporary topics including the effects of the COVID-19 pandemic on international educational policy; opportunities for academic modernization in Ukrainian society; gender equality in Korean and Japanese universities; and inclusive education policies throughout the developing world, including India, South Africa, and Uruguay. It further discusses the ways in which governmental, non-governmental, and global education specialists are shaping new agendas focused on equity and responding to global crises.
Offering new perspectives on educational policy in a post-pandemic world, this comprehensive Handbook will be crucial reading for students and scholars of education policy, politics and public policy, sociology, and university management. It will also be beneficial for educational research associations and international development agencies, including UNESCO, the Asian Development Bank, and the World Bank.