---
Symposium on the Renovating and Possibilities of Higher Education in the GBA
Higher education is a significant part of regional development and plays a key role in promoting economy and society. The central government of China expects its universities to drive the national initiative known as the Guangdong-Hong Kong-Macau Greater Bay Area (GBA). Specifically, the universities are to provide the scientific talent and technical expertise for the GBA to become the next world center of innovation in science and technology. This workshop will identify the accomplishments, challenges, obstacles, and possibilities for higher education in the GBA. It will address a number of questions about the major characteristics of universities across the GBA, their diversity in finance, governance, curriculum, academic staff, research output, knowledge exchange, and cooperation, both domestic and international. It will consider the most influential stakeholders and how they steer higher education in the GBA. We invite researchers in the field of comparative and international higher education to address the key issues with groundbreaking insights grounded in data analyzes from diverse perspectives.
Center for Higher Education Research, Southern University of Science Technology
Consortium for Higher Education Research in Asia, Faculty of Education, The University of Hong Kong
Centre for Higher Education Studies, IOE, UCL's Faculty of Education and Society
Please click here to register. For those located in mainland China, please click this link to register.

Meeting Time: 14:00 pm (UTC+8)
Chair: Postiglione, Gerard A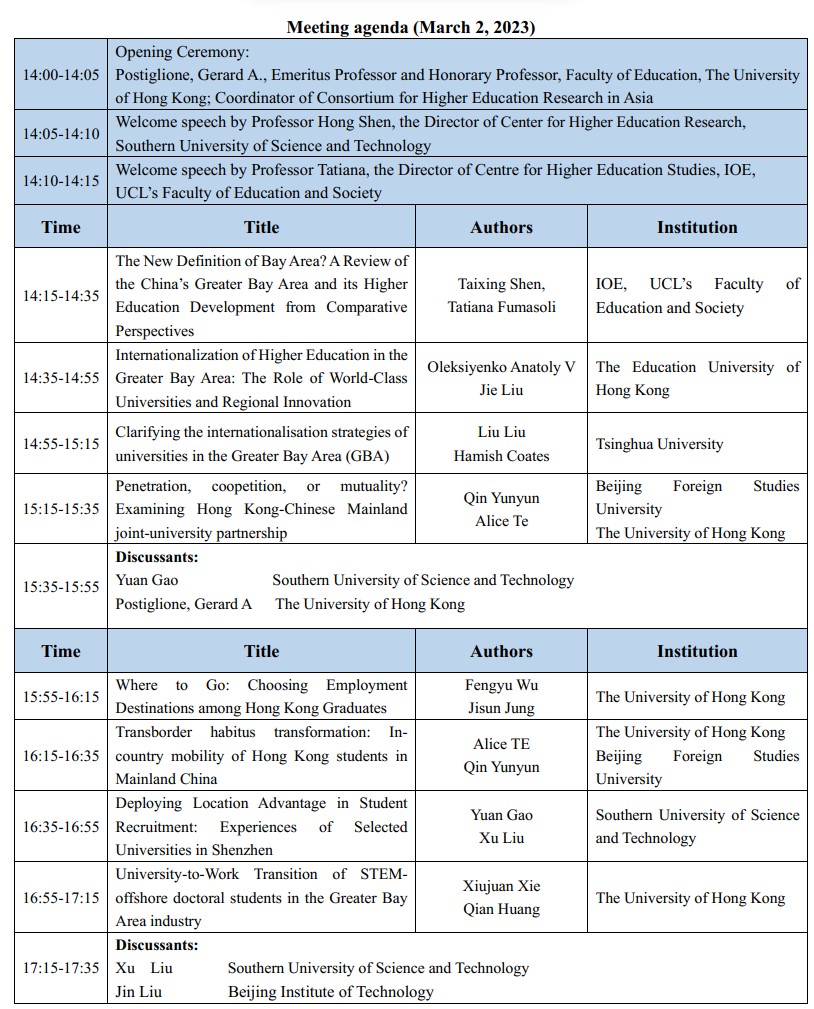 Meeting Time: 14:00 pm (UTC+8)