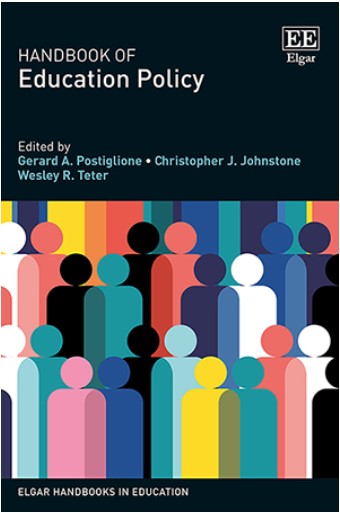 Edited by 
Gerard A. Postiglione
 (Professor Emeritus, Honorary Professor, The University of Hong Kong), 
Christopher J. Johnstone
 (Associate Professor, University of Minnesota, US) and 
Wesley R. Teter
 (Research Fellow, Center for Advanced School Education and Evidence Based Research, University of Tokyo, Japan)
'The new 
Handbook of Education Policy 
edited by Postiglione, Johnstone and Teter is a welcome addition to the academic literature on the transformation of education policy in the aftermath of the COVID-19 pandemic. The 22 chapters of this well-researched book give a comprehensive analysis of how education policy must adapt to a radically changed world. Through a skilful combination of thematic pieces and case studies from a large range of countries, the chapter authors challenge us to embrace new education policy concepts, such as public value governance and knowledge democratization, that can foster innovation and accountability in times of uncertainty. Gerard Postiglione, Christopher Johnstone, and Wesley Teter should be congratulated for this excellent scholarly contribution that has the potential of influencing policy makers all over the world to design and implement more sustainable and innovative education policies.'
– Jamil Salmi, Diego Portales University, Chile
'This 
Handbook 
combines an up-to-date overview with theoretically-informed analysis of global education policies. It is erudite, insightful and original. It will be a vital resource for education policy researchers and an excellent starting point for students, in any location.'
– Stephen Ball, University College London, UK
This insightful Handbook is an essential guide to educational policy around the world. As shifting geopolitics, intensified climate change, and widening economic inequalities persist, the need for informed educational policy is critical.
Bringing together a unique collection of international case studies by scholars and practitioners from over twenty countries, the Handbook highlights how the contextual nature of educational policy and its implementation acknowledges both global trends and local nuance. Chapters explore key contemporary topics including the effects of the COVID-19 pandemic on international educational policy; opportunities for academic modernization in Ukrainian society; gender equality in Korean and Japanese universities; and inclusive education policies throughout the developing world, including India, South Africa, and Uruguay. It further discusses the ways in which governmental, non-governmental, and global education specialists are shaping new agendas focused on equity and responding to global crises.
Offering new perspectives on educational policy in a post-pandemic world, this comprehensive Handbook will be crucial reading for students and scholars of education policy, politics and public policy, sociology, and university management. It will also be beneficial for educational research associations and international development agencies, including UNESCO, the Asian Development Bank, and the World Bank.