Consortium of Higher Education Researchers (CHER) 33rd Annual Conference
Promoting Closer Relations and Scholarly Dialogues Between European and Asian Higher Education Researchers
Innovation and Adaption in a New Context of Change in Higher Education
The CHER 33rd Annual Conference was successfully held on September 1-3, 2021.  This was the first time in CHER's history that the conference was hosted from Asia, so we were glad that we were one of the organizers.
In the opening ceremony, Professor Max SHEN (Vice-President and Pro-Vice-Chancellor – Research, HKU) and our member, Professor Rui YANG (Associate Dean (Research), Faculty of Education) gave the opening speech.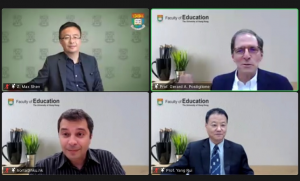 In the keynote conversation, Professor Gerard A. Postiglione was invited to be the chair and moderator. Also, Dr Hugo Horta, Professor Yang Rui and Dr Anatoly Oleksiyenko were the speakers at the conference.