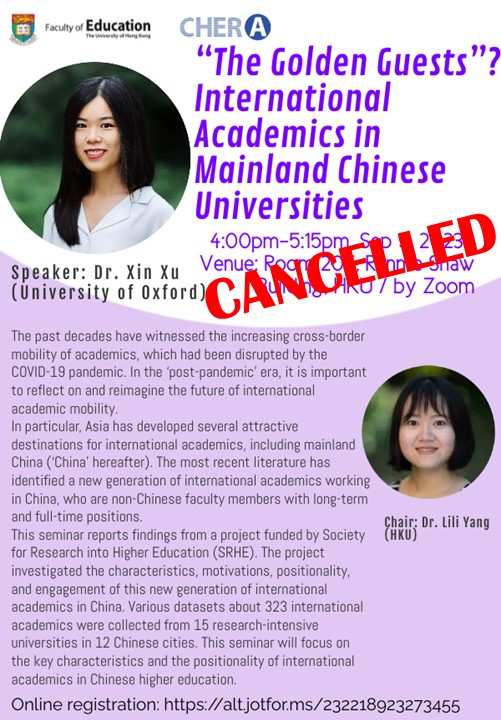 The past decades have witnessed the increasing cross-border mobility of academics, which had been disrupted by the COVID-19 pandemic. In the 'post-pandemic' era, it is important to reflect on and reimagine the future of international academic mobility.
In particular, Asia has developed several attractive destinations for international academics, including mainland China ('China' hereafter). The most recent literature has identified a new generation of international academics working in China, who are non-Chinese faculty members with long-term and full-time positions.
This seminar reports findings from a project funded by Society for Research into Higher Education (SRHE). The project investigated the characteristics, motivations, positionality, and engagement of this new generation of international academics in China. Various datasets about 323 international academics were collected from 15 research-intensive universities in 12 Chinese cities. This seminar will focus on the key characteristics and the positionality of international academics in Chinese higher education.
CANCELLED
Speaker: Dr Xin Xu, University of Oxford
Chair: Dr Lili Yang, The University of Hong Kong
Speaker:
Xin Xu (许心) is Departmental Lecturer in Higher/Tertiary Education at the Department of Education, University of Oxford. Xin specialises in higher education studies and the research on research. She is co-editor of Changing Higher Education in East Asia (with Simon Marginson; Bloomsbury, 2022). Projects she currently works on include the ESRC-funded CGHE project 'Research on Research: the research function and mission of higher education', SRHE-funded project 'International academics in mainland China', and BAICE-funded project 'Ethical research in international and comparative education during Covid-19'. Xin also teaches on the MSc in Education (Higher Education) programme, and supervises doctoral and masters dissertations. She is a Fellow of the Higher Education Academy (FHEA).