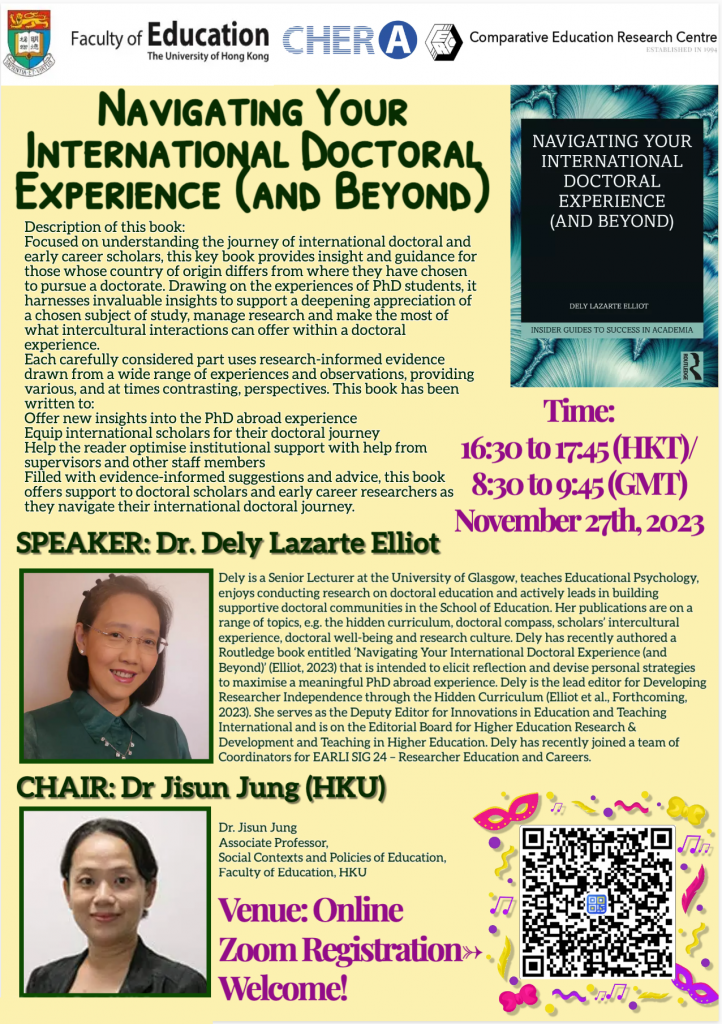 Date: November 27, 2023
Time: 4:30 pm – 5:45 pm
Venue: Online
Chair: Dr Jisun Jung, HKU
Speaker: Dr. Dely Lazarte Elliot, University of Glasgow
Zoom Registration:
https://hku.zoom.us/meeting/register/tJUoc-2prj4rGdQqFrFjX5NHTgMSOPmrGXBn
Description of this book:
Focused on understanding the journey of international doctoral and early career scholars, this key book provides insight and guidance for those whose country of origin differs from where they have chosen to pursue a doctorate. Drawing on the experiences of PhD students, it harnesses invaluable insights to support a deepening appreciation of a chosen subject of study, manage research and make the most of what intercultural interactions can offer within a doctoral experience.
Each carefully considered part uses research-informed evidence drawn from a wide range of experiences and observations, providing various, and at times contrasting, perspectives. This book has been written to:
Offer new insights into the PhD abroad experience
Equip international scholars for their doctoral journey
Help the reader optimise institutional support with help from supervisors and other staff members
Filled with evidence-informed suggestions and advice, this book offers support to doctoral scholars and early career researchers as they navigate their international doctoral journey.
The 'Insider Guides to Success in Academia' offers support and practical advice to doctoral students and early-career researchers. Covering the topics that really matter, but which often get overlooked, this indispensable series provides practical and realistic guidance to address many of the needs and challenges of trying to operate, and remain, in academia.
These neat pocket guides fill specific and significant gaps in current literature. Each book offers insider perspectives on the often implicit rules of the game – the things you need to know but usually aren't told by institutional postgraduate support, researcher development units, or supervisors – and will address a practical topic that is key to career progression. They are essential reading for doctoral students, early-career researchers, supervisors, mentors, or anyone looking to launch or maintain their career in academia.
Dr. Dely Lazarte Elliot
Dely is a Senior Lecturer at the University of Glasgow, teaches Educational Psychology, enjoys conducting research on doctoral education and actively leads in building supportive doctoral communities in the School of Education. Her publications are on a range of topics, e.g. the hidden curriculum, doctoral compass, scholars' intercultural experience, doctoral well-being and research culture. Dely has recently authored a Routledge book entitled 'Navigating Your International Doctoral Experience (and Beyond)' (Elliot, 2023) that is intended to elicit reflection and devise personal strategies to maximise a meaningful PhD abroad experience. Dely is the lead editor for Developing Researcher Independence through the Hidden Curriculum (Elliot et al., Forthcoming, 2023). She serves as the Deputy Editor for Innovations in Education and Teaching International and is on the Editorial Board for Higher Education Research & Development and Teaching in Higher Education. Dely has recently joined a team of Coordinators for EARLI SIG 24 – Researcher Education and Careers.