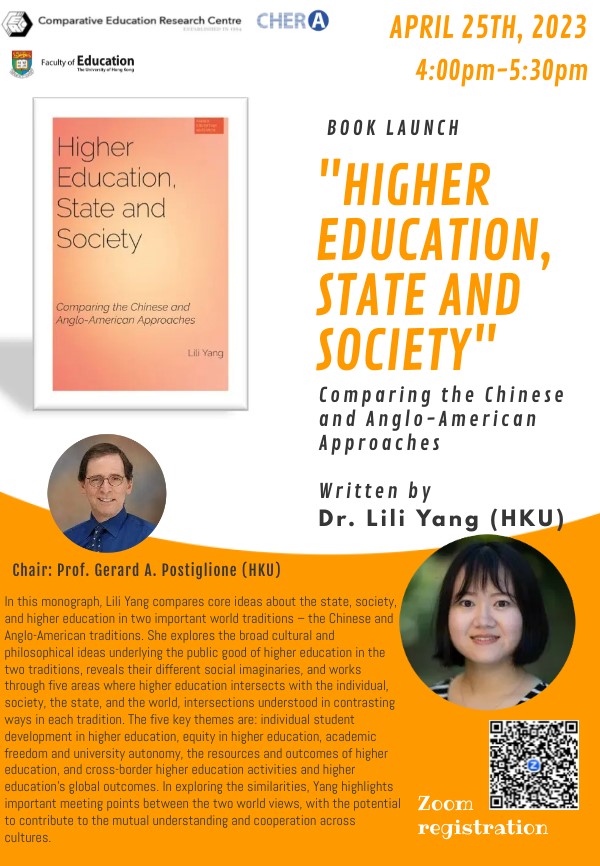 Chair: Prof. Gerard A. Postiglione, The University of Hong Kong
Speaker: Dr. Lili Yang, The University of Hong Kong
Date: April 25, 2023 (Tuesday)
Time: 16:00-17:30
Hong Kong Time by Zoom
Higher education plays numerous social and public functions. This is realized through the interactions between higher education and various spheres of social action including the individual, society, state, and world. However, there has long been a lack of clarity about what the public good of higher education means in each single tradition, and the lack of clarity is compounded at world level by the very different understandings between the traditions. This affects cooperation and common action.
In this monograph, Lili Yang compares core ideas about the state, society, and higher education in two important world traditions – the Chinese and Anglo-American traditions. She explores the broad cultural and philosophical ideas underlying the public good of higher education in the two traditions, reveals their different social imaginaries, and works through five areas where higher education intersects with the individual, society, the state, and the world, intersections understood in contrasting ways in each tradition. The five key themes are: individual student development in higher education, equity in higher education, academic freedom and university autonomy, the resources and outcomes of higher education, and cross-border higher education activities and higher education's global outcomes. In exploring the similarities, Yang highlights important meeting points between the two world views, with the potential to contribute to the mutual understanding and cooperation across cultures.
Bio:
Lili Yang is an assistant professor in the Faculty of Education, the University of Hong Kong. She has strong interests in cross-cultural (especially Eastern-Western) comparison in higher education and pays special attention to global epistemic injustice in higher education. More broadly, her research interests include higher education, comparative and international higher education, and global science. Previously, Lili was a postdoctoral researcher at the Department of Education, University of Oxford, where she also received her DPhil (PhD) in Education. Her recent article Individual and collective outcomes of higher education: a comparison of Anglo-American and Chinese approaches (co-authored with Simon Marginson) received the "Best Journal Article Award 2023" by CIES-HESIG.
Gerard A. Postiglione is Emeritus Professor and Honorary Professor in the Faculty of Education, the University of Hong Kong. Postiglione studies issues in higher education in China and East Asia. He is a pioneer among Western scholars and his fluency in Chinese has resulted in innovative primary research and fieldwork. He brings sociological, and policy perspectives to issues in Asian education, such as the academic profession, world class universities, equitable access, and graduate employment. He is one of the researchers most sought after by international organization concerned with Asia's educational reform and by major media outlets to inform the public on issues of globalization and higher education. Postiglione's current research asks how universities change as they become socially embedded, while responding to changes in the world order.