Ideas, Debates, and More: Meeting of European and Asian Higher Education Researchers Series
Rethinking University-society Relations – Comparing Western and Non-Western Experience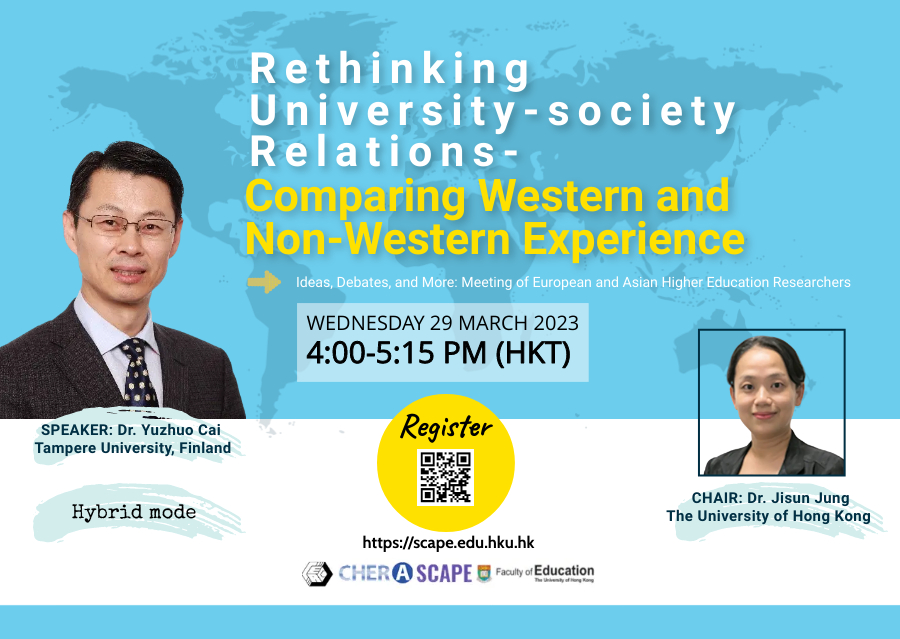 Co-organizers: Social Contexts and Policies of Education (Academic Unit) (SCAPE), Consortium for Higher Education Research in Asia (CHERA), Comparative Education Research Centre (CERC)
The lecture is based on an ongoing book project on Rethinking Universities-Society Relations co-authored by Rómulo Pinheiro and Yuzhuo Cai. In the lecture, Yuzhuo Cai will provide an overview of the evolution of university models from the perspective of university-society relations with an emphasis on comparing the experience in Western and non-Western countries. The university-society relations are examined via the lens of universities' roles in society (i.e., universities as mirrors, servants and shapers of society). Moreover, he will share some critical reflections on comparative education based on his research related to the book project.
Date: March 29, 2023 (Wednesday)
Format: In-person (Rm 206, Runme Shaw Building, The University of Hong Kong) or Online (zoom link will be sent closer to the date)
CHERA-CERC joint book launch
Higher education plays numerous social and public functions. This is realized through the interactions between higher education and various spheres of social action including the individual, society, state, and world. However, there has long been a lack of clarity about what the public good of higher education means in each single tradition, and the lack of clarity is compounded at world level by the very different understandings between the traditions. This affects cooperation and common action.
In this monograph, Lili Yang compares core ideas about the state, society, and higher education in two important world traditions – the Chinese and Anglo-American traditions. She explores the broad cultural and philosophical ideas underlying the public good of higher education in the two traditions, reveals their different social imaginaries, and works through five areas where higher education intersects with the individual, society, the state, and the world, intersections understood in contrasting ways in each tradition. The five key themes are: individual student development in higher education, equity in higher education, academic freedom and university autonomy, the resources and outcomes of higher education, and cross-border higher education activities and higher education's global outcomes. In exploring the similarities, Yang highlights important meeting points between the two world views, with the potential to contribute to the mutual understanding and cooperation across cultures.
Date: April 25, 2023 (Thursday)
Exploring the development of higher education research topics in the last two decades: Seven patterns
Higher education research, which was once trying to establish itself and confirm its status as a research field, is now accepted as an important research field across societies globally. Specifically, the last decades have seen dramatic developments in the field. This study mapped the development of the higher education field in the last two decades using novel natural language processing techniques. The study covered the abstracts of all articles published between 2000 and 2021 in the six core journals of higher education research. The findings highlight 15 emergent research topics, some of which are new additions that have not been highlighted before. Furthermore, the study analyzed these 15 research topics together with relevant covariates, such as publication year, funding status, collaboration, world region, and journal. Moreover, we examined the level of diversity of abstracts by these covariates. Based on these analyses, the study argues for seven major patterns in the development of higher education research in the last two decades.
Date: May 18, 2023 (Thursday)
New Book Releases!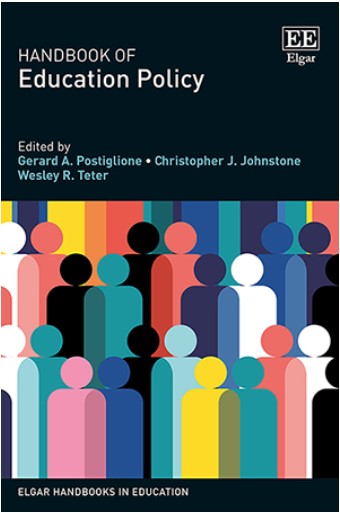 Edited by 
Gerard A. Postiglione
 (Professor Emeritus, Honorary Professor, The University of Hong Kong), 
Christopher J. Johnstone
 (Associate Professor, University of Minnesota, US) and 
Wesley R. Teter
 (Research Fellow, Center for Advanced School Education and Evidence Based Research, University of Tokyo, Japan)
'The new 
Handbook of Education Policy 
edited by Postiglione, Johnstone and Teter is a welcome addition to the academic literature on the transformation of education policy in the aftermath of the COVID-19 pandemic. The 22 chapters of this well-researched book give a comprehensive analysis of how education policy must adapt to a radically changed world. Through a skilful combination of thematic pieces and case studies from a large range of countries, the chapter authors challenge us to embrace new education policy concepts, such as public value governance and knowledge democratization, that can foster innovation and accountability in times of uncertainty. Gerard Postiglione, Christopher Johnstone, and Wesley Teter should be congratulated for this excellent scholarly contribution that has the potential of influencing policy makers all over the world to design and implement more sustainable and innovative education policies.'
– Jamil Salmi, Diego Portales University, Chile
'This 

Handbook combines an up-to-date overview with theoretically-informed analysis of global education policies. It is erudite, insightful and original. It will be a vital resource for education policy researchers and an excellent starting point for students, in any location.'– Stephen Ball, University College London, UK
This insightful Handbook is an essential guide to educational policy around the world. As shifting geopolitics, intensified climate change, and widening economic inequalities persist, the need for informed educational policy is critical.
Bringing together a unique collection of international case studies by scholars and practitioners from over twenty countries, the Handbook highlights how the contextual nature of educational policy and its implementation acknowledges both global trends and local nuance. Chapters explore key contemporary topics including the effects of the COVID-19 pandemic on international educational policy; opportunities for academic modernization in Ukrainian society; gender equality in Korean and Japanese universities; and inclusive education policies throughout the developing world, including India, South Africa, and Uruguay. It further discusses the ways in which governmental, non-governmental, and global education specialists are shaping new agendas focused on equity and responding to global crises. Offering new perspectives on educational policy in a post-pandemic world, this comprehensive Handbook will be crucial reading for students and scholars of education policy, politics and public policy, sociology, and university management. It will also be beneficial for educational research associations and international development agencies, including UNESCO, the Asian Development Bank, and the World Bank.
Watch our previous Webinars
Early Career Researchers Network in Asian Higher Education StudiesSuccess Factors of International Branch Campus Operation: Comparative Analysis Between Korea and Japan
Assessment and feedback redesign in ChatGPT times
Meet the Editors: Studies in Continuing Education
Chair: Dr Jisun Jung, HKU Speaker:Prof David Boud, Deakin UniversityProf Nick Hopwood, University of Technology Sydney
A Practical Guide for Capturing the New Opportunities and Potential in the Greater Bay Area Initiatives
Ideas, Debates, and More: Meeting of European and Asian Higher Education Researchers Series
Beyond The High Participation Systems Model: Illuminating The Heterogeneous Patterns Of Higher Education Expansion And Skills Diffusion Across 27 Countries
To Unsubscribe, please reply to cherhku@hku.hk
Consortium for Higher Education Research in Asia