Meet the Editors
Studies in Continuing Education
February 24, 2023 (Friday) 14:00-15:15 HK time by zoom
Studies in Continuing Education, published by Taylor & Francis, is a scholarly journal concerned with all aspects of continuing, professional and lifelong learning. The journal editors will introduce the aims, scope, and review criteria of the journal, and share their experiences in peer review.
Prof David Boud Deakin University
Prof Nick Hopwood University of Technology Sydney
Dr Joke Vandenabeele KU Leuven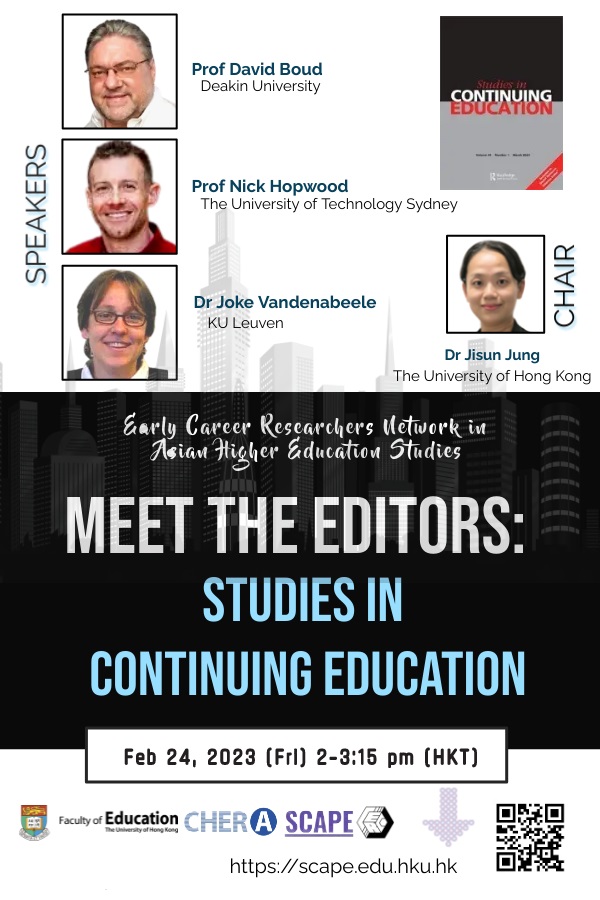 Symposium on the Renovating and Possibilities of Higher Education in the GBA
Higher education is a significant part of regional development and plays a key role in promoting economy and society. The central government of China expects its universities to drive the national initiative known as the Guangdong-Hong Kong-Macau Greater Bay Area (GBA). Specifically, the universities are to provide the scientific talent and technical expertise for the GBA to become the next world center of innovation in science and technology. This workshop will identify the accomplishments, challenges, obstacles, and possibilities for higher education in the GBA. It will address a number of questions about the major characteristics of universities across the GBA, their diversity in finance, governance, curriculum, academic staff, research output, knowledge exchange, and cooperation, both domestic and international. It will consider the most influential stakeholders and how they steer higher education in the GBA. We invite researchers in the field of comparative and international higher education to address the key issues with groundbreaking insights grounded in data analyzes from diverse perspectives.
Center for Higher Education Research, Southern University of Science Technology
Consortium for Higher Education Research in Asia, Faculty of Education, The University of Hong Kong
Centre for Higher Education Studies, IOE, UCL's Faculty of Education and Society
Please click here to register. For those located in mainland China, please click this link to register.

Meeting Time: 14:00 pm (UTC+8)
Chair: Postiglione, Gerard A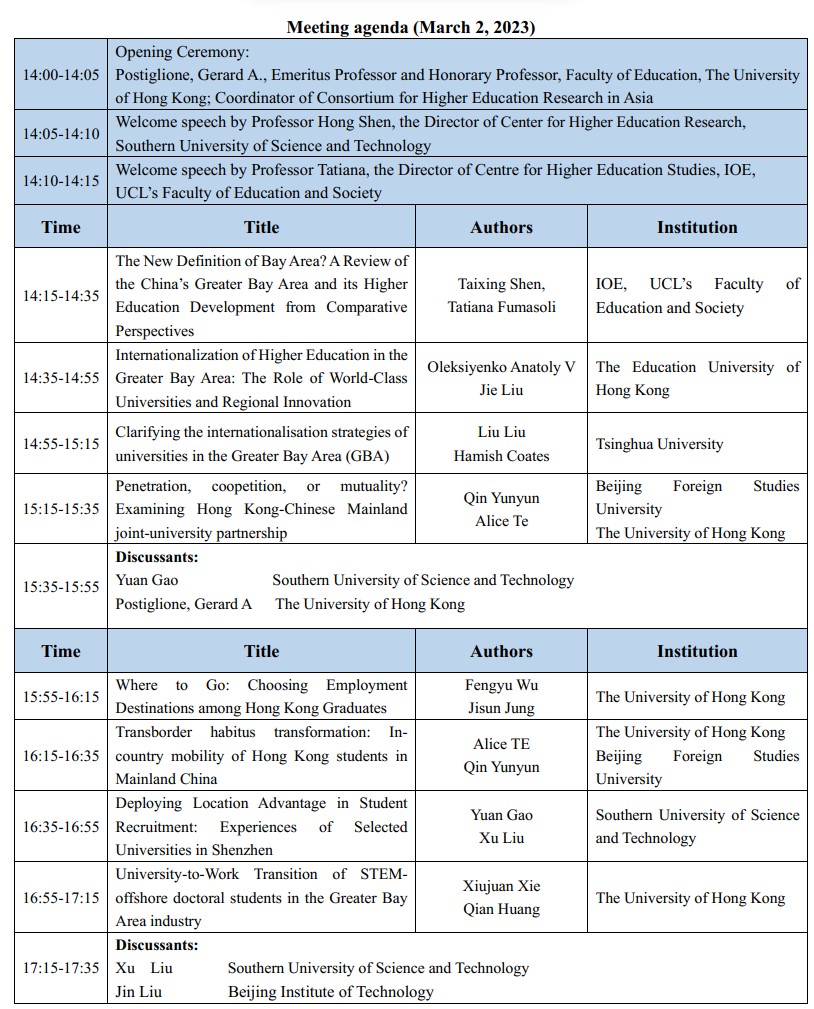 Meeting Time: 14:00 pm (UTC+8)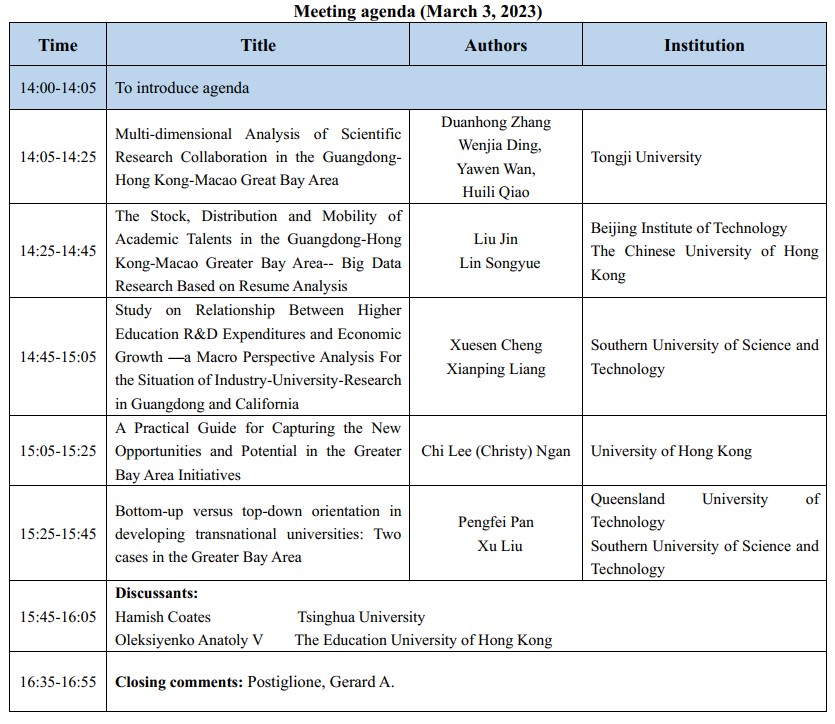 Assessment and feedback redesign in ChatGPT times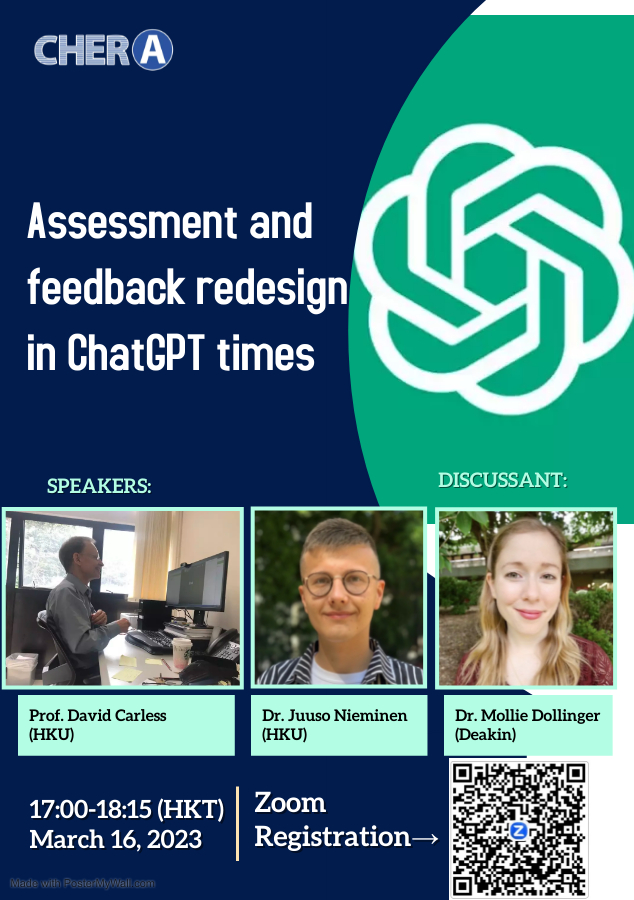 This seminar will delve into how the influence of Artificial Intelligence (AI) and ChatGPT in particular is transforming the way we approach assessment and feedback. The seminar consists of two expert provocations by Prof. David Carless and Dr. Juuso Nieminen, followed by a conversation led by our discussant Dr. Mollie Dollinger.
The first provocation by Dr. Nieminen considers how our approach to assessment needs to change fundamentally in ChatGPT times. In higher education, rather than solely focusing on easily measurable skills, assessment should now focus increasingly on human capabilities, such as problem-solving, critical thinking, and creativity. This necessarily requires us to shift our focus in assessment from course learning outcomes to programme learning outcomes. The second provocation by Prof. Carless aims to stimulate thinking at the interface of automated feedback practices and educational research on effective feedback. What are potential synergies between automated feedback and state-of-the-art feedback principles? What student and teacher feedback literacies enable productive use of automated feedback opportunities?
Date: March 16, 2023 (Thursday)
Ideas, Debates, and More: Meeting of European and Asian Higher Education Researchers Series
Rethinking University-society Relations – Comparing Western and Non-Western Experience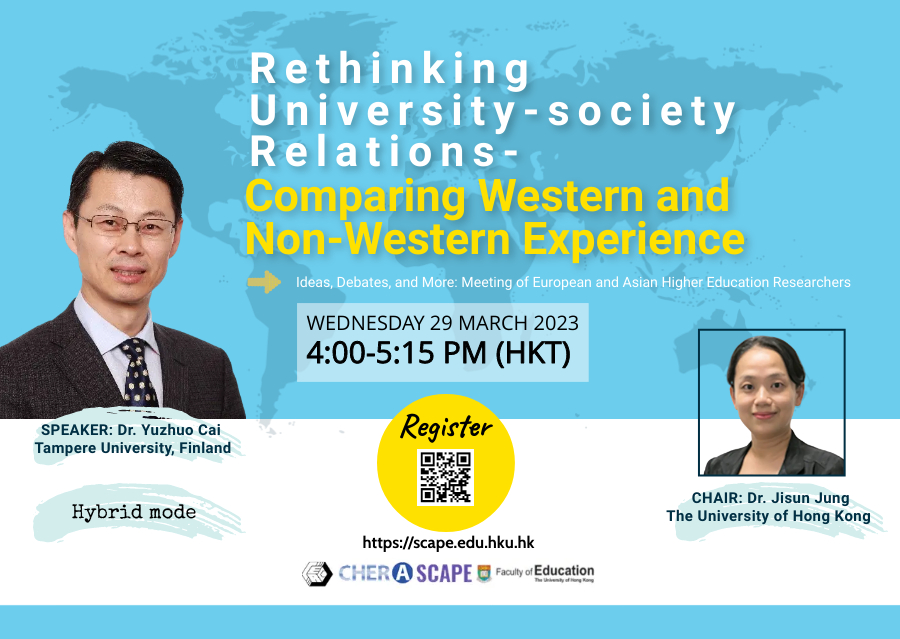 Co-organizers: Social Contexts and Policies of Education (Academic Unit) (SCAPE), Consortium for Higher Education Research in Asia (CHERA), Comparative Education Research Centre (CERC)
The lecture is based on an ongoing book project on Rethinking Universities-Society Relations co-authored by Rómulo Pinheiro and Yuzhuo Cai. In the lecture, Yuzhuo Cai will provide an overview of the evolution of university models from the perspective of university-society relations with an emphasis on comparing the experience in Western and non-Western countries. The university-society relations are examined via the lens of universities' roles in society (i.e., universities as mirrors, servants and shapers of society). Moreover, he will share some critical reflections on comparative education based on his research related to the book project.
Date: March 29, 2023 (Wednesday)
Format: In-person (Rm 206, Runme Shaw Building, The University of Hong Kong) or Online (zoom link will be sent closer to the date)
Early Career Researchers Network in Asian Higher Education Studies Series
Success Factors of International Branch Campus Operation: Comparative Analysis Between Korea and Japan
Korea and Japan have rarely been highlighted as the significant base for transnational higher education compared to the largest host countries in Middle East and Southeast Asia, and China. This research aims to conduct a comparative analysis of the development and success factor of the international branch campuses (IBCs) in Korea and Japan. The researchers conduct in-depth personal interviews with IBC professionals and experts in international education to explore how these IBCs survived the persistent challenges and grasped opportunities over the past decade(s) from a comparative perspective. The research questions that inform this study are: (1) How were the US IBCs in Korea/Japan established? (2) What were the motivations for establishing IBCs in Korea/Japan? (3) What are the success factors of the IBCs in Korea/Japan? To address the questions above, this study intends to examine the cases of US IBCs in Korea/Japan. Ultimately, this research is to find valuable implications and policy recommendations for the successful operation of the IBCs, or other forms of TNHE, in Northeast Asia.
March 17, 2023 (Friday) 16:00 – 17:00
Watch our previous Webinars
Early Career Researchers Network in Asian Higher Education Studies
A Practical Guide for Capturing the New Opportunities and Potential in the Greater Bay Area Initiatives
Emerging Resources of China's Soft Power: A Case Study of Cambodian Participants from Chinese Higher Education Programs
Choosing Chinese Universities: A Negotiated Choice for Hong Kong Students
Ideas, Debates, and More: Meeting of European and Asian Higher Education Researchers Series
Beyond The High Participation Systems Model: Illuminating The Heterogeneous Patterns Of Higher Education Expansion And Skills Diffusion Across 27 Countries
To Unsubscribe, please reply to cherhku@hku.hk
Consortium for Higher Education Research in Asia